Templates
Foolproof designs
Our designs are store-ready, so you can't go wrong.
Want to take more control of the design? Go for it. You can take the safety off and add your own touches to the look and feel of your tags.
Our templates offer a large variety of custom features such as price modifiers, custom font colors, background colors along with your choice of font.
Chain Templates

We use tag designs that are already approved by chains of stores, large and small—it couldn't be easier and you can't go wrong.
More than just shelf tags.
Our designs also include decals, wobblers, case cards, shelf talkers, and end cap inserts in a variety of sizes and formats. If there's a label you need, we can help you design it.
Need a design for a store not in our database?
Not a problem. We'll design a mock-up for the company to approve.
Need a specialty design for a special occasion or product?
We can do that for you too.
Template Media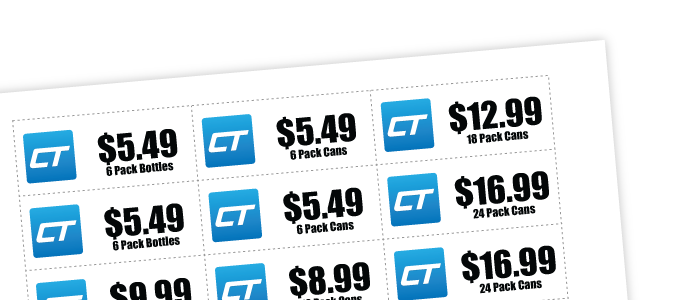 We supply affordable perforated printing materials so your tags print in the exact size and shape you need. Don't even think about trimming your tags with scissors. CoolerTags are perfectly shaped and ready to go.